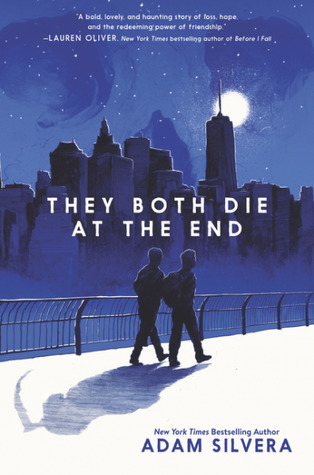 ★★★★★|Five Stars
On September 5, a little after midnight, Death-Cast calls Mateo Torrez and Rufus Emeterio to give them some bad news: They're going to die today. Mateo and Rufus are total strangers, but, for different reasons, they're both looking to make a new friend on their End Day. The good news: There's an app for that. It's called the Last Friend, and through it, Rufus and Mateo are about to meet up for one last great adventure and to live a lifetime in a single day. -Goodreads
Note: This review contains some spoilers.
The foreshadowing made this book for me. The way one seemingly inconsequential detail that entirely slipped under my foreshadowing-radar came back to cause the climax left me speechless. Not really speechless since I wasn't talking, it did cause me to make a lot of incomprehensible sounds of shock, sadness, and awe of how good that bit of plotting was.
The last line of the book broke me. I managed to hold it together until then, but that line made me cry. There is so much that goes unsaid in the last four sentences, leaving the reader to piece together what's going on and coming to that realization on my own played into the shock of the ending which made it way more emotional for me. The unsaid also played a big part in their budding romance, which is what kept me reading through the night. I wanted to know if I was correctly reading between the lines, or just making up a story that wasn't really there.
For a book that comes out with the ending in the title, I'm impressed by how much the ending shocked me. I really thought it was a trick and that Mateo and Rufus would get to live out their days somehow cheating death. For the whole book I felt like the "inconceivable" guy from the Princess Bride that is trying to puzzle out which wine is poisoned and keeps overthinking it. I was certain (hopeful) that the title was just a trick.
The world building was a weak and left me with a lot of unanswered questions. How does DeathCast know they are going to die? How long has it been in operation? Who funds it and do people have to pay to know when they are going to die? Are there people that reject knowing their death days? Have those people developed their own society in the woods somewhere that DeathCast can't call them?
The characterization was really good for Mateo and Rufus, but a little weak for the minor characters. Especially the Plutos, aka Rufus's friends, they felt interchangeable to me and I've already forgotten their names. The relationships between Aimee and Rufus and Peck confused me (Why did they break up? And why was she with Peck now? Why was Peck talking smack about Rufus?).
Overall, the plotting blew me away and made up for the weak world building and characterization of minor characters.